STEP 1
Examine the physical product.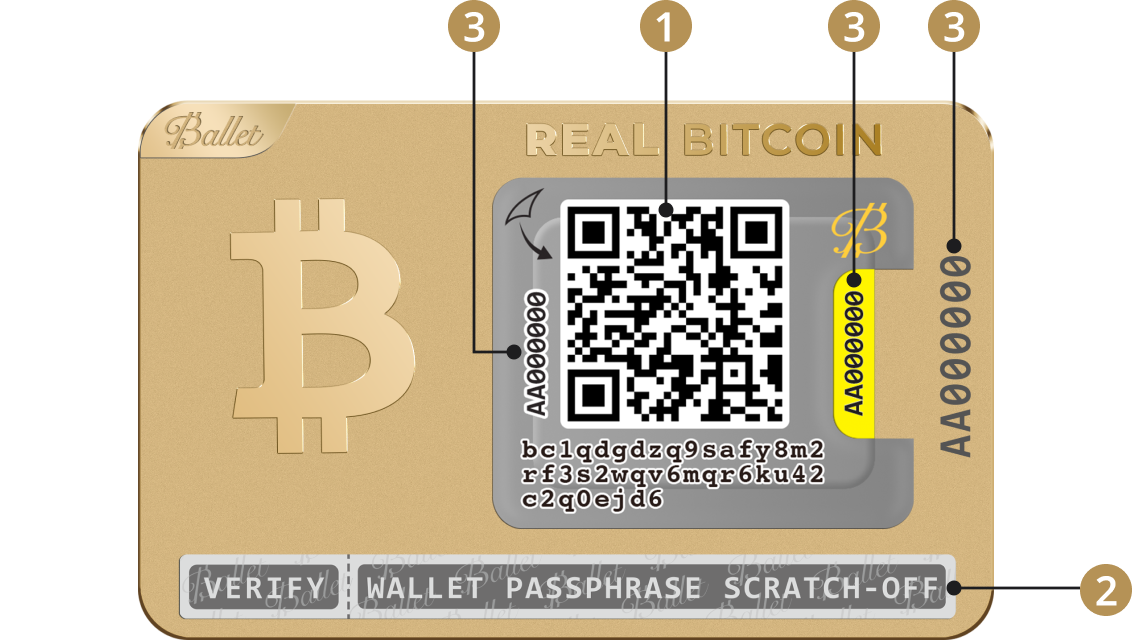 Before you deposit cryptocurrency to a new Ballet product, verify that the ① QR code sticker and the ② passphrase entropy scratch-off are fully intact and not tampered with. If they appear to be fully or partially exposed or tampered with, DO NOT USE IT. If you have any concerns, please contact support@ballet.com
for further assistance.
You can also verify that the ③ serial number on the product matches the serial numbers printed on the QR code sticker. All three serial numbers must be the same.

PLEASE NOTE
Both private key components are contained on the physical product, so please be sure to keep your physical product safe and not allow any unauthorized access to it.
Most importantly, do NOT reveal the private key entropy or passphrase entropy to any unauthorized parties.
STEP 2
Download the Ballet Crypto app.
STEP 3
Use the Ballet Crypto app to scan the QR Code on your physical product.
STEP 4
Here are some more features.
Multi-Asset Support
How to store multiple crypto assets on a single wallet.
Learn more
Deposit Crypto
How to get your deposit address.
Learn more
Send Crypto
How to send crypto from your wallet.
Learn more
Swap
Swap your crypto assets without leaving the app.
Learn more